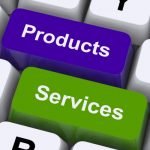 Changing Markets, increasing competition, buyers are more demanding, how can we deal with it? From 2006 to now the world has changed. Increasing your sales efforts, developing new products, training staff, you've done it al. All this to gain customers, but still you're not there.
Although it's not easy, this can be done effectively, but what you need is the right focus and an integrated approach. Consulting Led Selling (CLS) is an integrated approach to enhance your customer orientation and increase customer retention.
From product push to solution pull
The markets for products tend to get more competitive. Emerging markets like China, India and Brasil offer strong competition for low prices. Companies and brands are not distinctive anymore. Customers used to be loyal to premium brands but are willing to step over to new brands. With the consultative selling approach we don't focus on product delivery, but on solving the problem of the customer. We deliver a solution. To do this, you asa a person have to make the difference.
Do you own the skills and knowledge to do this?
Want to know more about it?
Download the latest flyer or check out the CLS Training Course.