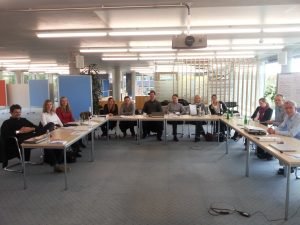 Issue Based Consulting (IBC) is a free to use non-proprietary technique for professional consulting. The consulting process is defined from initial customer contact to the creation of the end- recommendation.  The method helps every professional to solve complex problems the most efficient and effective way, Not only consultants, but also engineers, (project) managers and all others that have to deal with solving complex issues. By offering a structure and a toolkit IBC is the ultimate answer to get a grip on these challenges. The quality of your solutions will be strongly improved. Also the buy-in with key stake- holders is part of this process and will be improved. The method enables professionals to save a lot of time by putting the finger on the sore spot or root cause in a very short time and convince customers and stake-holders of your solution.
Ideal for consultants or consulting firms with a desire for a professional, structured and well defined approach to consulting.
By applying Issue Based Consulting:
You are able to convince the customer of the underlying problem and the value of your help?
You are able to distillate the root cause of perceived problems in a very short time.
You are able to create an effective solution and create buy-in with customer and stake-holders.
You are in control of your consulting engagement and your team, due to a structure and a well-de-fined scope you are able to manage the process.
Concepts and skills we learn:
Audience:
The methodology and related training are focused on a bachelor or academic level audience with at least 5 years of relevant working experience.
Experienced professionals who want to enter the field of consulting.
Consultants who want to expand their expertise with a new method to improve the structure, effectiveness and commercial approach of their assignments.
Experienced consultants who seek an innovative approach to create more value for their customers.
Course details:
Course length:  4 days
Course dates 2017:
April 17 – 20 (Amsterdam)
May 11, 18, 25 and June 1  (Utrecht)(Dutch)
July 3-6 (Munich)
September 9 – 12 (Amsterdam)
November 27-30 (Munich)
Please check our calender for updates.
Investment :
Course fees € 2.350,-  (VAT excluded)

Including all course materials
Including lunches and beverages

Please ask us to assist you with your hotel bookings we have company rates for nearby hotels.
Our training offer:
Contact us for your customized In-Company training offer.
Or look at our calender for an open course in your area.
---
Register for this training: